Thanksgiving Activities at School for Reading
Are you looking for some ideas for Thanksgiving activities for reading? My favorite way to incorporate content area vocabulary during the holidays is with read-aloud. The students love to listen to all the fun stories and they set the perfect tone for our theme! Here are a few of my favorite books for Thanksgiving reading activities:
It is about a turkey running loose in a school right before a Thanksgiving play. Follow along as students turn their school upside down trying to catch the turkey. This book combines STEAM concepts and traps.
One of your Thanksgiving activities at school can be to let students come up with their own traps to catch the turkey in a safe way that won't hurt it. Encourage students to bring items from home, draw up a plan and work together as partners or in small groups to create their clever ways to catch a turkey.
They will of course use a writing sheet to design and describe their trap! CLICK HERE for a free editable template.
This is a sweet book about how Bear wants to have a big dinner to say thanks to his friends and how they all bring food. The illustrations are great! I love giving my students a turkey without the feathers, then I give them a handful of paper feathers and they write what they are thankful for on each feather. This makes a great wall display or bulletin board  with the title, "I am Thankful For…"
This is a funny book about how Turkey dresses up like other animals so the farmer can't recognize him. The kids love this one! They just laugh at Turkey's disguises.
One of your Thanksgiving party activities could include giving children a turkey cutout and letting them dress it up so it is in disguise. It is so funny to see what disguises they come up with. This craft set of over 2500 pieces is a great set to get if you need supplies for your turkeys.

Another fun turkey craft is giving kids a pinecone for the turkey's body and feathers to slide into the back of the pinecone. They can also paint the pinecones fall colors. Glue googly eyes on it and a beak.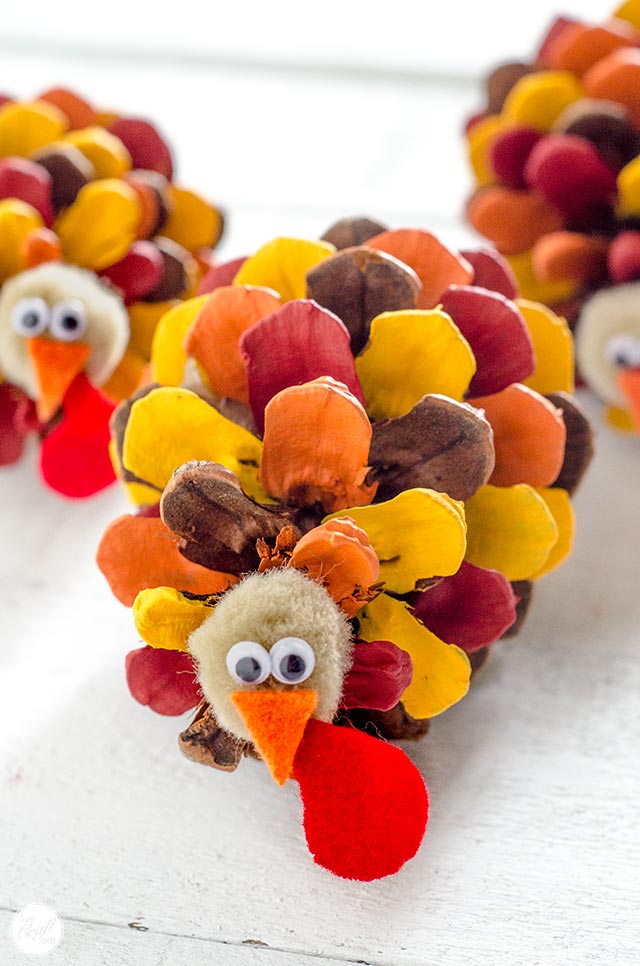 Here's an example of a cute one from Live Craft Eat.
Thanksgiving Worksheets
Thanksgiving worksheets are included in this fall poetry set. There are multiple Thanksgiving activities sheets for your poetry folders! Enjoy poems for Thanksgiving Past, Thanksgiving Present, and a fun turkey poem.
There is also one for Veterans Day and Election Day.
Here's what's included:
For Election Day

Election Day poem
Election Day pocket chart cards
Election Day sight word fill-in-the-blank sheet

For Veterans Day

Veterans Day poem
Veterans Day pocket chart cards
Veterans Day sight word fill-in-the-blank sheet

For Thanksgiving

Thanksgiving poem
Thanksgiving pocket chart cards
Thanksgiving sight word fill-in-the-blank sheet

Turkey poem
Turkey pocket chart cards
Turkey sight words fill-in-the-blank sheet
For Thanksgiving Past

Thanksgiving Past poem
Thanksgiving Past pocket chart cards
Thanksgiving Past sight words fill-in-the-blank sheet
PLUS…Our Cornucopia Sight Word Center!
25 Fry sight words and November Word of the Day vocabulary cards
25 cornucopia sight word cards with letter fruit manipulatives
4 teacher guides on Thanksgiving Activities
These content vocabulary words have helped my students with writing as well as building that important vocabulary.
More of our worksheets on Thanksgiving are included in our November Worksheets for First Grade Writing. These worksheets are print and go and will cover every day in November.
Included themes for Thanksgiving Activities Sheets:
Election Day, Veterans Day, Thanksgiving Past, Thanksgiving Present, Forces and Motion
Thanksgiving Activities at School for Math
My Thanksgiving activities at school include fun and engaging math games.  Turkey Scoot is a fabulous option for addition and subtraction to 10.
Included:
24 Thanksgiving Math Task cards
4 Take a Break cards
Scoot Directions
Directions for 4 other games
Recording Sheet
Answer Key
Turkey Manipulatives with teacher guide
Addition and Subtraction Sheet
Boom cards are great for centers because they are self-checking, and these games help them to learn their math skills as they play. Our Thanksgiving math addition cards and subtraction cards have pies that can be dragged to the table to help your students with their math! This Thanksgiving Boom Deck is a perfect addition to your math centers or can be added to your Thanksgiving party activities.
Included:
31 digital cards
Movable pumpkin pies for tactile engagement
Printable manipulatives for other centers
Guides for 4 DIFFERENT GAMES!
We also have one for subtraction and patterns. My students love playing these fun games at school!
Get all these November Resources in our new Thanksgiving Bundle.
We hope these ideas for Thanksgiving activities will make your November dynamic for your students!
Sign up for our newsletter here and get news on sales, giveaways, tips and free resources in your inbox. 
Like this post? PIN IT!