You may be wondering how games for science can build stronger vocabulary. Science and vocabulary are not two words you would typically put together, but when you let these two things support each other, you get magic! Your students will have a better understanding of the science concepts you are teaching and develop stronger literacy skills at the same time. How do you get started? Concept-based instruction!
What is concept-based instruction?
You may be asking, "What is concept-based instruction?" It is when your curriculum is all connected together by a certain theme or concept. Your vocabulary, reading, writing, and sometimes math, are centered around your theme. I love to draw my concept ideas from my science and social studies units since we often have trouble finding time for unit work.
Concept-based instruction provides your students with countless benefits. Here are just a few. Your students will: (Inspirational Teaching Using Limited Resources)
Have fun,

Be more actively involved,

Develop learning skills more quickly, as each one is connected to and reinforced by the other,

Be more confident and better motivated,

Present fewer discipline problems.
My thematic teaching ideas help make the best connections for my students, and they get so excited to learn the new theme for the week! 
The key to a strong concept-based instruction approach is vocabulary. You will expose your students to as much of the core vocabulary as possible throughout your week.
Here are some vocabulary clusters we use:
Scientific Method: SCIENTIST, EXPERIMENT, HYPOTHESIS, CONCLUSION, OBSERVATIONS, DATA 
Want to give your students a hands-on opportunity to apply this science vocabulary word cluster? Check out our FREE STEM interactive notebook for every science experiment this year!
Forces and Motion: FORCES, MOTION, ENERGY, PUSH, PULL, GRAVITY
Weather: WEATHER, PRECIPITATION, TEMPERATURE, SUNNY, CLOUDY
Make your list of words and then mindmap how you can incorporate them into all the different areas of your day.
How strategies for active learning lead to powerful results
An active learning classroom is one in which students control much of their experience. Rather than acting as the leader in your classroom, your role is as a facilitator. You can find more details to get started by CLICKING HERE.
We are strong believers in showing students how to direct their learning. This frees you up to do so many of the things that truly make an impact on your students. 
How vocabulary games in science can boost your students' enthusiasm
One of our favorite strategies for independent learning is games in science. Have your students play games with vocabulary to reinforce core concepts and practice literacy skills. Games for science are a super fun way to review concepts and vocabulary. You can utilize them as a whole group assessment, pre-assessment, or as strategies for independent learning.
Science games for learning centers in a classroom
There are many game options for your students to explore in guided or independent learning centers in a classroom. First, utilize your vocabulary words and any of those board games you have laying around collecting dust. Give your students a stack of science vocabulary word cards in a center to go with any board game. Instead of just taking turns, have the students pick a card. If the student can read the word, the student can take a turn. If not, they skip their turn and the card goes to the bottom of the pile. This is ideal for a unit spiral review with multiple sets of vocabulary words. You can also play the game in a guided reading group and have students give you the definitions for the words.
Grab our display cards to have real images that go with the vocabulary.
Scientific Method: SCIENTIST, EXPERIMENT, HYPOTHESIS, CONCLUSION, OBSERVATIONS, DATA 
Forces and Motion: FORCES, MOTION, ENERGY, PUSH, PULL, GRAVITY
Weather: WEATHER, PRECIPITATION, TEMPERATURE, SUNNY, CLOUDY
Differentiate it!
Your students can choose to play with the images or you can give them index cards without the images. They can choose to identify the beginning sound or take an extra "challenge" and identify the word.
Here are some other games students can play for learning centers in a classroom:
Taboo: Play regular taboo, but with science vocabulary. You can simplify it by having the students just avoid saying the word, or you can create a list of words to go with it.
Pictionary: No special rules here. Just have a student pick a card and draw a picture. The other students have to guess.
20 questions: Play 20 questions with your science vocabulary word cluster.
Charades: A student picks a card and acts out the word. Other students have to guess the word.
Go Fish– You can check out more games that we use like this when we teach sight words.
Science games with vocabulary words in the classroom
Another great way to switch up your instruction is using games with science vocabulary words in the classroom. As I mentioned before, use these as a pre-assess or post assess, or even a fun review activity.
Differentiate it!
Provide an extra challenge for your students. Tell them to choose two words and talk about how they relate to one another. Then they get to stomp two cups.
Your students will have a blast with this awesome game. Again, a great way to practice science vocabulary word concepts. All you need is some disposable cups with words on them and a ball. This koosh ball is great for games and as a sensory tool!
This is a great way to use Jeopardy with vocabulary concepts from Diary of a Not So Wimpy Teacher! Instead of asking trivia questions, have students compete using synonyms, antonyms, etc. for each vocabulary word.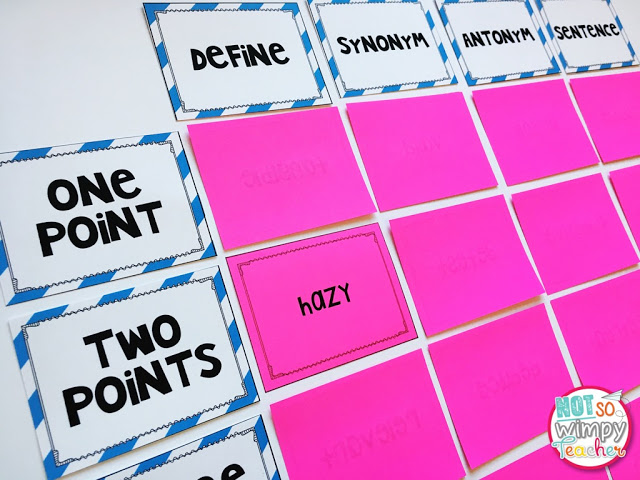 This is a fun game where students can put the science vocabulary words on their foreheads and students on their teams can give them clues to what their words are without saying any of the word.
Boost your science learning centers in the classroom
You can do all of this with a simple collection of vocabulary cards. All of our science comprehension bundles have word wall cards that have real images, and can be used for any of these games that we mentioned. The bundles also include printable and digital emergent readers that have the same photos as well as digital vocabulary cards with definitions, syllables, and phonics features of the words, all audio, so they are great for centers or homework or use them for instruction on a smartboard.
See More HERE!
Enjoy your science learning!